Veronica Lake, Safety Styles
excerpt from U.S. News Review, issue 5, 1943
In 1941, Veronica Lake (1919-1973) caught her break and rocketed to stardom with her role in I Wanted Wings. Life captured her appearance in minute 49 for posterity thus: It was the moment when [she] walked into camera range and waggled a head of long blonde hair at a suddenly enchanted public" (1). The article then devotes two pages to discussing the actress' distinctive hairdo and that lock dropping over one of her eyes. It detailed the number of hairs, their diameter and their length (give or take one centimetre). Every beauty parlour in the United States advertised that haircut and women flocked in. A few indeed argued that it made America a happier place (2) at a time world war was looming in Europe. Veronica Lake became "the girl with the Peek-a-boo bang".
The US was at war nine months later. The Government encouraged women to work en masse in factories making weapons. Some of them, however, had accidents because their hair styled after the star's got caught in the machines. In 1943, the War Manpower Commission, asked Veronica Lake to change her hairdo for the remainder of the armed conflict. She was flattered that she could do something for the war effort (3) and willingly obliged. The Office of War Information, the Government's propaganda agency at the time, filmed the scene and broadcast it extensively.
The star was all the happier since she only sported her hairdo on sets. Moreover, well-known humorists mocked it. In Stage Door Canteen by Frank Borzage (1943), Ray Bolger sang, "She has hair that she wears like Veronica Lake, so that 50% of her is blind." Her decline after the war probably partly explains why the peek-a-boo style faded shortly thereafter.
(1) Life Magazine, 24 November 1941, pages 59-61.
(2) Jeff Lenburg, Peekaboo: The Story of Veronica Lake (iUniverse, 2001), p. 55.
(3) Veronica Lake, Donald Bain, Veronica (New York, The Citadel Press, 1971), p. 98.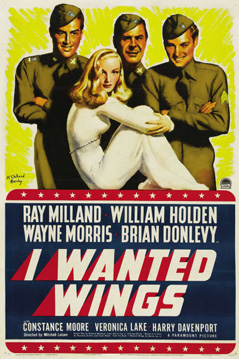 I Wanted Wings (Mitchell Leisen) - 1941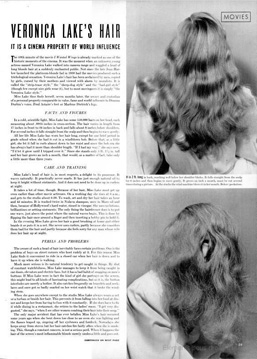 Life Magazine - Veronica Lake's Hair: It is a cinema property of world influence - 1941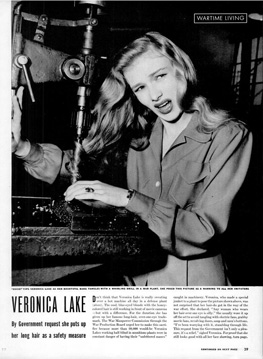 Life Magazine - Veronica Lake: By Government request, she puts up her long hair as a safety measure - 1943