Alphonse Mucha
Têtes byzantines
(Byzantine Heads), colour lithographs, 1897, Mucha Trust, Cambridge
Sinuous lines and plant motifs are two of Art Nouveau's hallmarks, and Alphonse Mucha (1860-1939) is one of its most prominent exponents. His reputation was at its apogee in 1897, when he contrived his Byzantine Heads. He had been actress Sarah Bernhardt's appointed poster artist since Gismonda topped the charts in 1895.
Mucha contributed a lot to the sensual image that clothed women in Art Nouveau. Their long, floral, water-like or air-like hairdos were ornamental motifs in their own right. His Byzantine Heads depict a brunette and a blond facing each other on separate medallions, and their profiles emerge as on Antiquity and Renaissance portraits. The raised hair unveils their necks and lighter locks, while the long wavy streaks plummet down the sides.
What Mucha did was create a make-believe mirror for the brunette's and blonde's beauty to outshine the other. The sophisticated golden and ebony hairdos correspond, whereas the smiles, gazes and jewellery capture what makes them different. They are both proud of their sumptuous tiaras, which add another touch to their shine. The supple and malleable hair intertwined with pearls and gems is not unlike a garment featuring the chiselled arabesques as jewels. Mucha and Lalique, as an aside, used those waves to create sophisticated jewellery.
The interlacing hairdos on the medallion backgrounds, on the gems and on the frames, blend into a typical stylised Belle Époque plant motif. Mucha's hairdos intertwining with lilies, roses or irises unfurl into sensual, generous corollas. The artist is perpetuating reverence for the woman-flower, who can be innocent or poisonous, whom the turn of that century delighted in extolling.
These Byzantine Heads were a huge hit. Mucha's voluptuous and enthralling women reappeared in the decorative arts in the 1960s and 1970s. Their swaying hair resembled lianas and flames, there was something eminently psychedelic about it, and they would flower again on city walls.


Alphonse Mucha - Gismonda - 1894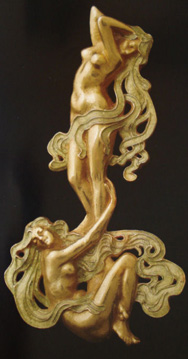 René Lalique - Deux nus - 1897-1898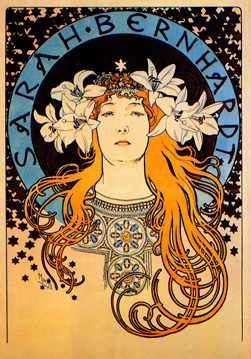 Alphonse Mucha - Sarah Bernhardt - 1896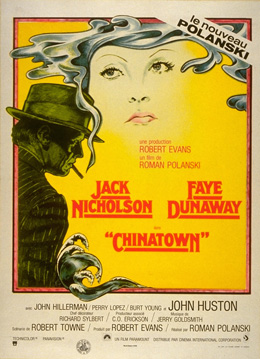 Chinatown (Roman Polanski) - 1975