Charles Baudelaire
Un hémisphère dans une chevelure
poem, 1857
read by Pierre Brasseur, 1954
"Un hémisphère dans une chevelure" [A Hemisphere in Your Hair] is a prose poem by Charles Baudelaire (1821-1857) taken from the anthology entitled Le Spleen de Paris [Paris Spleen] (published posthumously in 1869). It echoes "La Chevelure" [Hair], a poem in verse taken from Les Fleurs du Mal (1857). In "Un hémisphère dans une chevelure", the motif of the hair provides the starting point for a reflection on loving, travelling and remembering.
"Laisse-moi respirer longtemps, longtemps, l'odeur de tes cheveux, y plonger tout mon visage comme un homme altéré dans l'eau d'une source, et les agiter dans l'air comme un mouchoir odorant, pour secouer des souvenirs dans l'air" (1)
Sung by du Bellay, Mallarmé or Apollinaire, the hair, from the pen of Charles Baudelaire, is the adornment of the venomous or sacred women who haunt his poems. Addressing his mistress Jeanne Duval, nicknamed the "Black Venus", the author is praising here the charms of her ebony tresses which he cannot detach himself from. Luxuriant and lascivious, her wavy hair is like a spring, a sea, an ocean into which the man plunges with delight. He lets himself be lulled languidly by a series of images and sensations which are invitations to the amorous voyage. Having become a world, the lover's hair opens up to distant landscapes once visited. At its contact, Baudelaire gives vent to a stream of memories which, as in a dream, turn into harmonious pictures where sensual pleasure reigns. The heavy exotic perfumes which the hair emits awaken the senses and intoxicate. The fluid black hair changes into a blazing fire which invites caresses and kisses. A figure of speech for the beloved, for Baudelaire the hair is a boundless source of pleasure and nostalgia, a veritable fetiche which he stirs up as he daydreams.
(1) "Long, long let me breathe the fragrance of your hair, Let me plunge my face into it like a thirsty man into the water of a spring, and let me wave it like a scented handkerchief to stir memories in the air". Charles Baudelaire, "Un hémisphère dans la chevelure", in Le Spleen de Paris, Gallimard, 2010.

Dora Maar et Pierre Kefer - Etude publicitaire pour Pétrole Hahn - c. 1904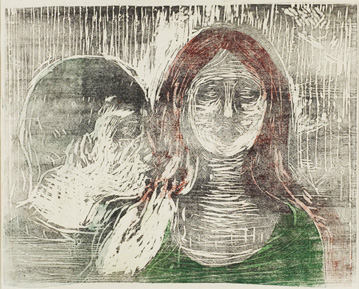 Edvard Munch - Baiser sur les cheveux - 1915