Andy Warhol
Lana Turner
acrylic and silkscreen ink on linen, 1985, The Andy Warhol Museum, Pittsburgh
Andy Warhol (1928-1987), one of Pop Art's leading lights, used and recycled popular imagery conveyed by the media, advertising and consumer society. Portraits are predominant in this American artist's work. He produced them to order starting in the early 1970s. In 1985, Warhol met actress Lana Turner (1921-1995) on a set, and captured this blonde American cinema icon's hairdo for posterity. He had already flattered her in two of his films: More Milk, Yvette in 1965 and Women in Revolt in 1971.
This painter's first complaint was having to "transform this 60-year-old woman into a 25-year-old girl" (1), but he nevertheless rekindled the fire that the blonde femme fatale from The Postman Always Rings Twice (1946) radiated in her Hollywood heyday. This black-and-white screen print that he produced from a photo concealed part of her face to highlight its main features, like a mask. Warhol then added his deliberately artificial pop colours on the black-and-white image as a film. The framed close-up face looks like a diaphanous apparition veiled in light skin pink contrasting with the dark background. Her orangey-pink hair clothes her in a supernatural, possibly even legendary, aura. Her sharp red mouth and earrings add the portrait's glamorous touch.
Lana Turner is looking invitingly at onlookers, and yet the blue puts her somewhere beyond reach. She is there and yet so far – possibly like the Hollywood star whom Warhol enshrined by transferring her image from glossy magazines to a timeless paintings.
In his day, Salvador Dalí had turned Mae West and her blond locks into surrealist objects. Andy Warhol and other Pop Art and New Realism artists took over Hollywood imagery to subvert its codes – or elevate actresses to the rank of 20th-century idols.
(1) Andy Warhol, Journal (Paris, Grasset, 1990), p. 634.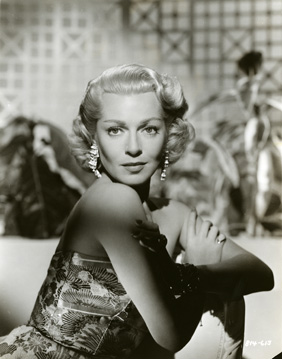 Lana Turner -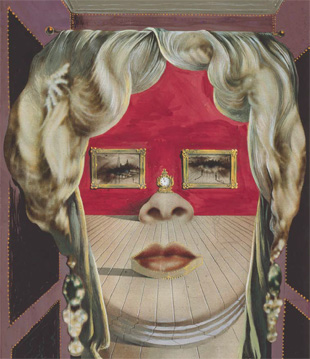 Salvador Dalí - Visage de Mae West pouvant être utilisé comme appartement surréaliste - 1934-1935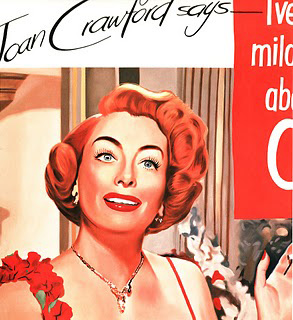 James Rosenquist - Untitled (Joan Crawford Says) - 1964